Haven't added the pictures in yet, but I will try to do it soon.
I left at 8:00 for a 1:10 game. That's 5 hours before the game. Why was I leaving so early? I was going to the White Sox hotel to try to get  a ton of autographs.
I did not do very good.
I got an autograph from Daryl Boston, and Robin Ventura. That's it.
Right after that, I went to Target Field, and got in line at Gate 34. Actually, I take that back, there was no line. I was the only one in it. As I was there, I saw 3 White Sox players walk through the Plaza outside the stadium. I didn't know who they were at the time, but I have now identified them as John Danks, Adam Eaton, and Gordon Beckham. It was about 9:30 now. I was expecting another ballhawk to arrive soon. His name is Alex Dehmer and he writes a ballhawking blog called Everything Twins. The line at the gate got a lot bigger because there was some big giveaway today. The giveaway was this hat: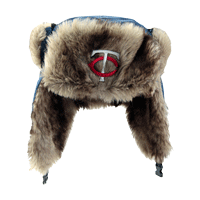 Alex Dehmer showed up later and we talked for a bit.
BP started at 10:30 but the gates wouldn't be open for another half hour. To be surprised, I was somewhat wrong. They opened the gates about 10 minutes before 11 o'clock, but they still didn't let anyone in. Great! Snagging gate 34 balls would be a lot easier now. Good thing I was first in line! A few minutes later, I was looking at the ground for some reason until I heard a security guard scream, "BALL!!!!" I looked up and saw that a ball was bouncing right towards me. A security guard picked it up, so I asked him for it and he gave it to me. I got a ball even before the stadium opened. Yes!
(pic)
When they let fans in a few minutes later, I grabbed my fur bomber hat and ran to an area in right field where I saw a ball land. Unfortunately, I was told another usher had already grabbed it. At least I only was in there looking for 5 seconds. I went to the overhang section of right field and claimed the corner spot. I quickly got Blaine Boyer, a player who never throws balls up, to actually throw me a ball. Maybe it was because I was the only one who knew his name? Not sure. So I'm at 2 balls and the stadium hasn't even been open for a minute yet.
(pic)
I figured that I wouldn't get another ball in right field so I ran over to the left field bleachers. I recently got a GoPro camera and a GoPro hat clip, so I brought them both to the game. I turned it on as I was running to the bleachers. My brother, Ben, was out there, and he had 2 balls. He fielded one himself at 34, and got a toss-up from Kyle Gibson in left. Like Ben, I also managed to get a ball from Gibson. Here's how it went down. Gibson fielded one, I asked him for it, he threw it to me, it bounced off the wall, it rolled back to him, and he made a good throw this time.
(pic)
Third of the day and I have only been inside the stadium for 5 minutes. Here is a cool video I got on my GoPro: Gibson toss-up. And before you ask, no. It was not filmed with a potato.
After that, I went for home runs during the rest of Twins BP. There was some really close calls, most of them hit by Torii Hunter. He was crushing the ball. It was cool to see him back in action and that he's still got it going on.
BP ended a minute later, and the second that it did, I took off for the left field foul line where some White Sox were playing catch. I did not get anything from them. But when Scott Carroll came over to talk to a fan and he had a ball in his glove, I quickly made my move and asked for the ball. He looked at me and he immediately took it out of his glove and set it in mine. Easy as can be!
(pic)
There was a boring part in BP when nothing was being tossed up. I hate that. I went out to left field for a few minutes but it was waaay too crowed, so I went to the right-center seats. Alex and Ben where out there. I had a ton of close calls on BP homers out there. The closest one was one I thought I definitely was going to catch, but it bounced off the top of the wall, and back on to the field. It was picked up by Jeff "Shark" Samardzija, so I asked him for the ball and received it. Apparently that was the only ball Samardzija tossed up all day.
(pic)
That's 5 balls for those counting at home. Shortly after that, I went to the White Sox dugout and tried to get some more autographs. I only got one and it was from Dan Jennings. BP finished up right after that and I didn't get any baseballs at the dugout. 5 balls during BP. Just like last time.
Me, Ben, and Noah, who was with us too, tried to sneak in to the third base side dugout box. We snuck in, and we thought we were all good. We ended up getting caught, but instead of ushers just telling us to leave the section, they went over the top! They were seriously trying to scare us and be mean. This one obese usher woman was yelling at us and she went on a rant about how, "I CHECK TICKETS AT 12:30 AND YOU CAN'T BE DOWN HERE AFTER THAT!" She wouldn't let us leave until all three of us walked up to the top of the section. She took us to another old usher and told her,"THESE THREE ARE WANDERING AROUND WHEREVER THEY WANT!" This other usher said to us, "NO. UN-UH. YOU'RE DONE DOING THAT FOR THE GAME. LEAVE!".
Aren't ushers supposed to be nice and helpful? Guess not all of them. All she could have said was, "Sorry, you have to go sit in your real seat now". I've met some nice ushers and all they have said was that. These rude ones are probably going to go on and bore their grandchildren to death with the story about the time they ruined three peoples days.
I went to my actual seat, which was actually pretty good. I watched most of the game from there. At point, a foul ball came straight up and towards me. I knew that it was going to land right next to me. This is the part where I stand up and make the catch, celebrate, and get showed on TV, right?
Nope.
Instead, I ducked in cover so I didn't get hit. Why did I do this? I didn't have my glove on because I didn't think a foul ball was going to come near me. Dang it.
I ended up going to the bullpen later so I could try to snag a ball over there. I didn't, but when I was there some super drunk dude came over and was trying to bribe the players in to throwing a ball up. He started throwing single bills down there. He kept taking money out of his wallet and throwing it in the bullpen. He eventually took 20 bucks in 1's and threw them all down there! This guy was insane! They took all money money and shoved it in to a corner of the bullpen. I left after that.
I went back down to my seat for a few more minutes before moving to a different spot near an entrance to the Twins dugout box. I then made my way down in to the seats in the first row right behind the Twins dugout.
(pic)
The Twins had the lead, 5-3, and it was the top of the 9th. They only needed three outs to win. Alexei Ramirez came up with no outs, and hit a fly ball which was caught by center fielder Shane Robinson. Robinson threw the ball in, and instead of rolling in to the Twins dugout, it rolled in the camera well, which I happened to be sitting behind. I asked a camera man for the ball, and he put it in my glove.
(pic)
Six.
The Twins got 2 more, and the game ended. I didn't manage to snag a ball from the Twins, so I went to the other dugout to try and get a toss-up from Mario, the visiting team bat boy. Mario came out and threw one to Ben, and then another guy who looked somewhat important that was in the dugout threw one to me.
(pic)
Number 7 would be my last ball of the day. I wanted to give that ball away, so I looked EVERYWHERE for a little kid with a glove. I did not find one. I was getting ready to leave the stadium, when I saw Jeff Samardzija walk out of the dugout in his street clothes, across the field, and in to the seats! I knew exactly where he was going and what he was doing, so me, Ben, Noah, and another grapher chased him down. Ben was the first to get to him, so he turned around and was about to grab his sharpie, but he saw all of those so he said, "Not if everyone's coming after me." He then walked out of the stadium with a bunch of fans who had no clue who he was.
I waited outside the stadium for my mom to come, and as I was, I found the perfect kid to give a ball to. I asked him if he had got a ball, and when he said no, I asked if he wanted the one I got. He was really excited, but I think his parents were more!
I left the stadium right after that, happy with what I got.
STATS:
Balls at this game: 7 (BP homer, Blaine Boyer, Kyle Gibson, Scott Carroll, Jeff Samrdzija, Camera man, Sox Staff)
Autographs at this game: 1 (Dan Jennings)
Autographs at hotel: 2 (Daryl Boston, Robin Ventura)